zzProperties.html
9fixed 00.12.23 (d5z
To ZigZag home page
To Ted Nelson home page
SPECIAL PROPERTIES of ZZstructures tm

The unusual cells of ZigZag may be assembled into conventional structures, such as lists, spreadsheets and hierarchical directories. In that case there would be nothing special.
BUT IT CAN BE USED FOR MANY OTHER INTERESTING THINGS.
INSERTED CELLS

You can take an ordinary spreadsheet-like construction and insert a cell between two other cells, like this:


TWISTED COLUMNS
Columns need not be in the same order in every row. Consider, for example, a California-style restaurant menu. Each of the following entries contains a Meat field, a Sauce field, a Surround Relation field and a Sauce Relation field; yet the entries are in different sequences. (They are color-coded for similarity below.)

ZigZag allows them to be in these respective orders while the meat field, sauce field and surround field remain in fixed columms.
Sauce meuniere topping a a Roast Quail amongst a bed of herbs
-----
Medallions of parsnip and pomegranategracing a Steak Tartare, slathered with plum sauce
-----
Sauteed Mahi Mahi surrounded by snickerdoodles, graced by fig conserve

Sauce meuniere topping a Roast Quail amongst a bed of herb

Graphically, we may see that these columns remain connected by type despite their different permutations. (Exercise for the reader: What are the effects of I and H views of this structure?)
FOLDED ROWS
Depending on the position of the cursor, partial rows underneath another row may be made to appear and disappear. This is useful in outlining and the cosmetic concealment of confusing detail which may be easily found as needed.

Consider this data structure.

With this cursor placement, the middle row is folded under.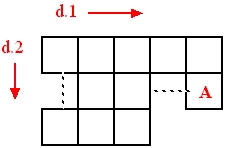 ---
"The Connections of ZigZag"
"The Views of ZigZag"
"The Axioms of ZigZag Structure"
"The Multidimensionality of ZigZag"
"Special Properties of ZigZag Structure"
"Easy Misunderstandings about ZigZag"
"The Paradoxes of ZigZag"
Back to WELCOME TO ZIGZAG. .
---

•